Van Hydraulics – Case Study
Rural Small Business Enjoys Benefits of Modern Tech Thanks to VanBelkum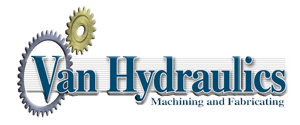 The Client
Van Hydraulics is a regional hydraulic and pneumatic repair facility located in Conklin, MI. They have more than 200 years of experience repairing industrial and mobile hydraulic and pneumatic equipment, custom machine design and construction, specialty machining and fabrication, preventive maintenance programs, and customer service. The owner of Van Hydraulics also operates several farms in the area, and, until recently, didn't have a good way of keeping her multiple facilities connected due to their rural locale.
The Challenge
Every business needs to be connected in today's world. Access to the internet is critical, but our infrastructure (especially in rural areas) has not kept up with demand.
Conklin, Michigan is one such rural area. An unincorporated municipality, internet infrastructure consists of copper wiring, which severely limits bandwidth compared to modern fiber optics. Combined with the fact that the wiring doesn't extend far beyond the immediate municipal area, businesses and homes on the outskirts of town are often unconnected to the internet.
Van Hydraulics, a small business just outside of Conklin, discovered that as their business grew, their need for connectivity grew. The owner of the company also operates a large farm in the area, VanOeffelen Farm Services, and she needed a way to manage and secure each of these rural locations. Unfortunately, the lack of infrastructure meant they couldn't connect to the wider world and take advantage of modern business technologies, like upgraded phone systems, video surveillance, and access controls.
When Van Hydraulics realized the limitations of their current internet connectivity, they started by contacting a major ISP in the area. After taking some measurements, the ISP's proposed solution was to build out over a mile of fiber infrastructure to reach the business. Unsurprisingly, laying a mile's worth of fiber cable was prohibitively expensive, and Van Hydraulics turned elsewhere once they got the final quote exceeding $250,000.
The Solution
With no cable infrastructure to lean on, VanBelkum had to get creative. We solved the connectivity problem by implementing high-speed wireless internet that can accommodate a full suite of connected business systems.
After researching wireless providers in the area, we found a main tower located a little over 7 miles from the business. From the main tower we were able to set up a point to point connection to VFS that branched to all satellite buildings within the farm that needed an internet connection.
From there, we ran a point-to-point signal from the silo to Van Hydraulics, providing both locations with exceptional internet speeds. Phones, networking, video surveillance, and access controls are now all available because of the increased bandwidth the wireless network provides.
Taking what was available, we set up antennas on VFS that maximized the relatively weak connection from the wireless tower 7 miles away. That way, we were able to add point-to-point networks each time a location is added. Van Hydraulics can now manage the full family business at one centralized location.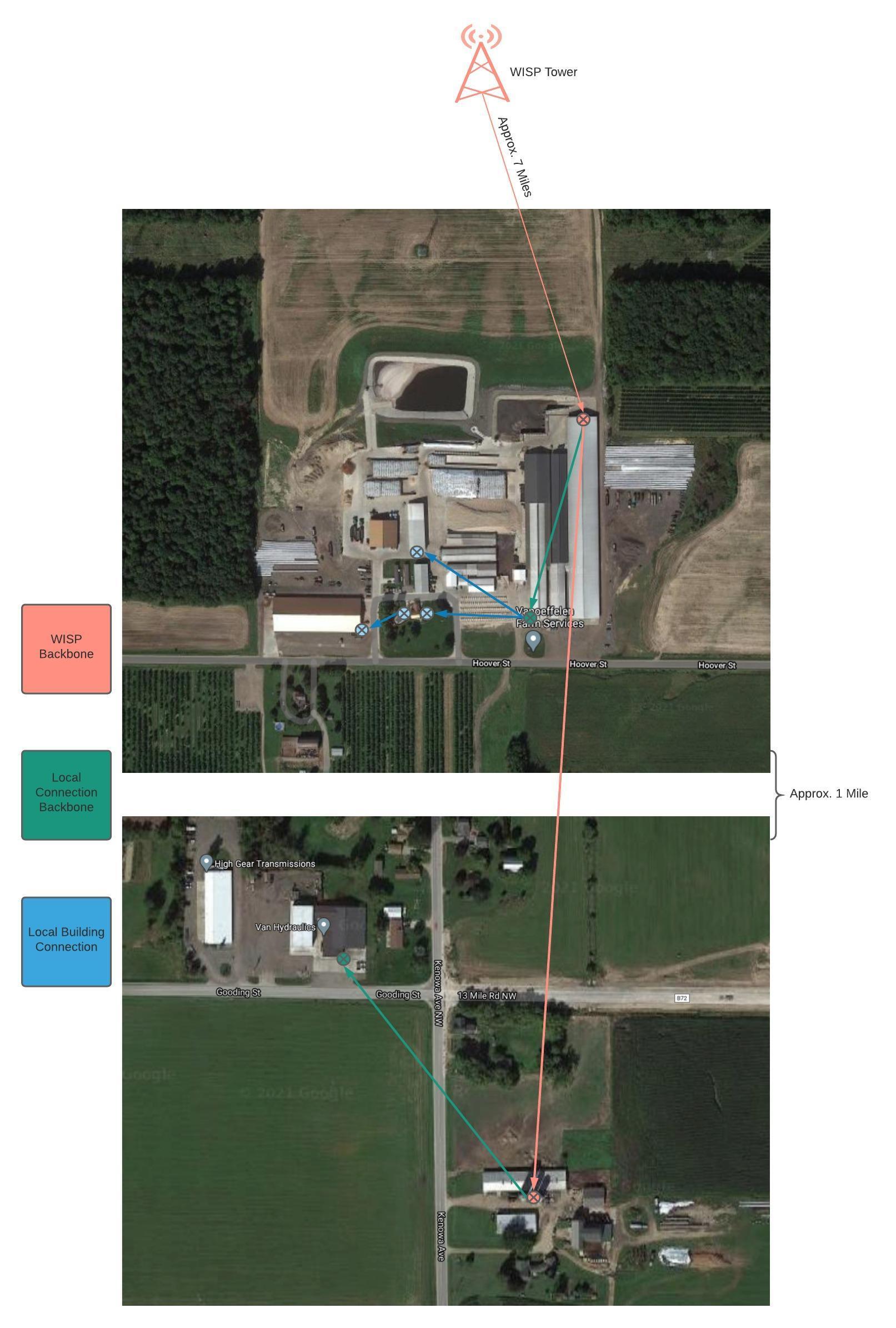 The Result
Now connected (to each other and the wider world), the different facilities of Van Hydraulics can now enjoy the benefits of modern business systems. Their phone system provides better customer experiences, and their surveillance and access control systems provide security and centralized building control.
What's even better is that the owner of Van Hydraulics can now focus on growing the business rather than having to physically be on site to monitor each of her locations. She can easily and quickly check up on each of her facilities, leaving her more time to consider her business's future.
The Takeaway
Van Hydraulics, a small business in a rural locale without good internet infrastructure, keeps expanding thanks to their modern wireless network connection.
With a bit of creative thinking and taking advantage of the resources at hand, VanBelkum implemented a connectivity solution that solved their "rurality" problem. Now Van Hydraulics is no longer being held back by a lack of connectivity, and their business can expand and thrive.
To learn more about how VanBelkum helps small businesses with rural internet connectivity or to simply ask a question on our service offerings, fill out the form below to speak with one of our communications experts. You'll talk to a real, local person that wants to get to know you. No high-pressure sales pitch, no obligations – we just want to understand the uniqueness of your company and answer any questions you may have.
"*" indicates required fields
Subscribe to our Newsletter!