What is a Managed Network?
The network is the backbone of a modern business – can you think of any industry that doesn't need to be connected? Every business relies on reliable and secure connections to the internet. Period. Simple as that.
Networks, however, can be complex; multiple layers, moving targets, and unpredictable roadblocks can stand in the way of productivity and profitability. Downtime, after all, is a dirty word – You couldn't do your job without the internet or with a slow/broken connection. VanBelkum will simplify the complexities of business networking – our experience, proven tools, and best practices ensure that your company's connection to the world is running as efficiently as possible.
A VanBelkum-designed network minimizes downtime by giving you superior flexibility and visibility. We have the ability to aggregate multiple internet carriers into a custom design, giving your business a unified network management system with seamless integration across all of your platforms. By working in conjunction with your service provider, we can diagnose and repair problems within the network itself – that means faster service and less downtime. Our sophisticated internal tools let us "see" into every aspect of the network, giving us an unparalleled view of the health of your network. We understand the value of uptime, which is why we pride ourselves on turnaround times that big-name ISPs can't guarantee. Productivity is critical, and we are here to make sure your business is able to operate in any circumstance.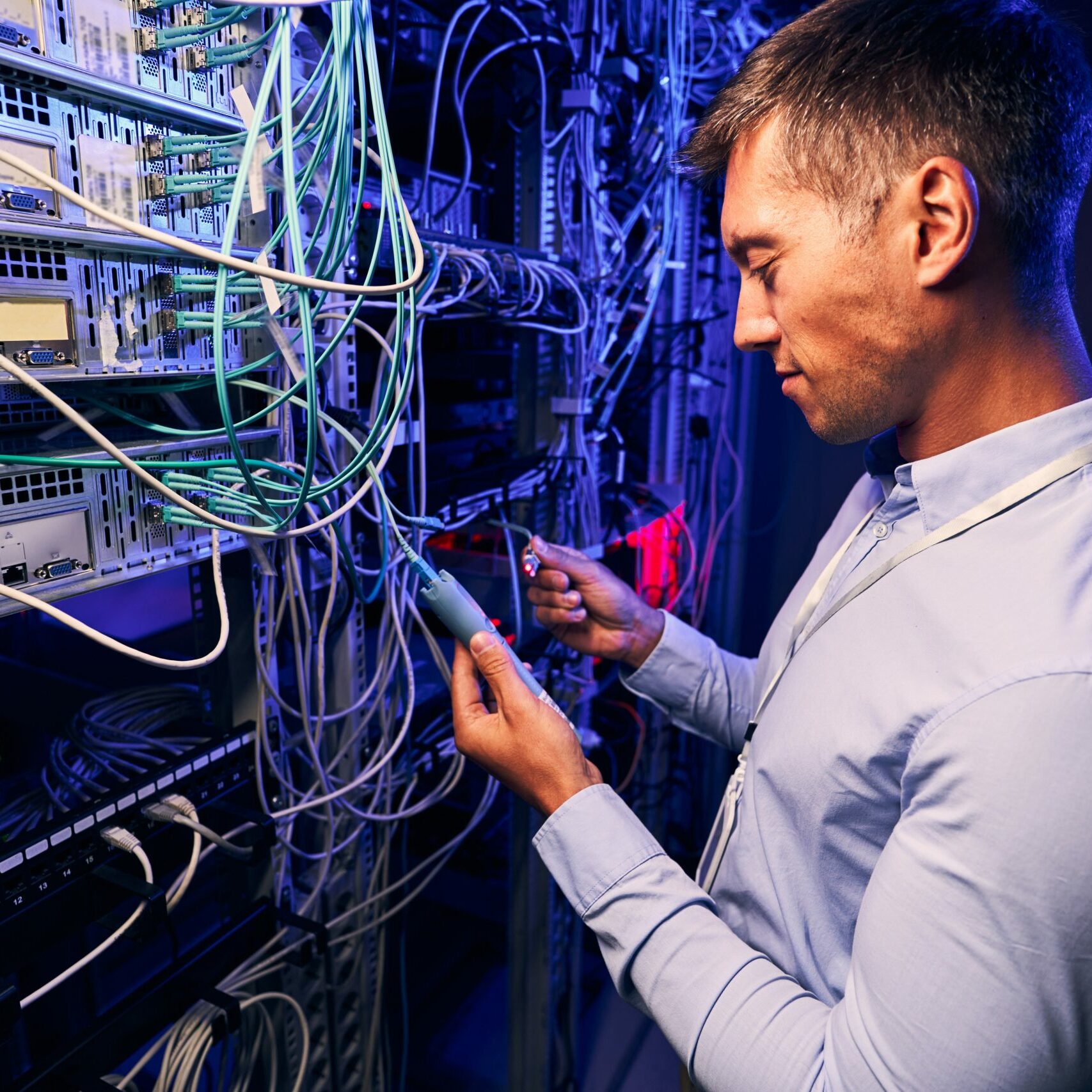 Why Should Your Business Upgrade?
You Outgrew Your Current Network
Scalable and Flexible Network Design
VanBelkum gives you managed network services that scale with your business
You Need to Minimize Server Downtime
Faster Service = Less Downtime
VanBelkum cloud networking gives you the fastest possible turnaround time.
Network Costs are Out of Control
Better Network Value for Your Critical Systems
VanBelkum keeps you up to date with the latest network tech, avoiding the dreaded "tech debt" that older systems accumulate.
You Need to Minimize Risk
State of the Art Data Security
VanBelkum's security suite options give you the most up-to-date threat protection available.
Network Security
A properly engineered and maintained network is one of the most valuable assets of any organization. Like we said earlier, uptime = productivity! But equally as important as design and maintenance is network security. Secured data and protection against threats are critical components of a well-designed network.
The average cost of a data breach was $3.86 million in 2020. $3,860,000! This figure doesn't include the loss of trust and reputation suffered as a result. That's why VanBelkum places the utmost importance on network security; firewall configuration, managed switch installation, data/voice cabling, intrusion prevention, anti-virus, and content filtering are all part of our network security suite—we'll go to any length to make sure your network stays secure and uncompromised.
What Do Managed Network Services Cost?
In many cases, Vanbelkum-managed networks cost less to install and maintain than many of the big-name providers. We offer more value for your money and give you the personalized service and resources you need to keep your connection to the world up and running strong. We protect the critical systems of your business and design the network that keeps your organization running smoothly. Here's what to consider when categorizing your network as "Business Critical":
Can you do your job without the internet?
Can you do your job with slow/broken internet?
How long would you have to be down to justify the cost of a second internet connection?
What business processes are reliant on being connected?

Phone/VOIP Systems
Video Surveillance Systems
Payment Processing
Online CRMs
Others
We're here to help you with your networking needs in the easiest way possible.