Case Study: Multiple Buildings, One Internet Provider
Here's How a Bridged Wireless Connection Solved Bandwidth Management Issues for this Small Business

The Client
The client is the owner of several businesses, all within close range of each other and located in rural Michigan, serving a small town. They needed a secure network between multiple buildings, which included a combined gas station, restaurant, and convenience store, a liquor store, a second, standalone restaurant, and a storage building. The client was looking for a way to manage their network across all buildings, including placing firewall protections and other security measures to protect important data and information.
The Challenge
Every business relies on reliable and secure connections to the internet. Access to the internet, and secured networks, is critical but current infrastructure, especially in rural areas, has not been able to keep up with demand.
The particular issue this business faced was bandwidth management, which is the ability to connect different buildings to one internet source. The client needed to connect all their businesses to one internet source, however due to the lack of infrastructure, they were not previously able to take advantage of modern business technologies, including upgraded phone systems, video surveillance, and cross network access controls.
When the client realized the limitations they faced, they reached out to VanBelkum in order to resolve the issue.
The Solution
Without the necessary infrastructure to lean on, VanBelkum found a creative solution to the challenge the client faced. We solved the bandwidth management problem by connecting all the client's businesses together through point-to-point antennas.
Utilizing point-to-point antennas means creating bridged wireless service, allowing users to connect two or more locations to the internet through wireless access points (APs) and connect to multiple local area networks (LANs). This means that multiple locations will be connected to the same network and can utilize a full suite of connected business systems, as well as share files and other types of data on an established shared network.
Some wireless bridges support just a single point-to-point connection to another AP, whereas some others have the ability to support point-to-multipoint connections to various other APs.
The main advantage of utilizing point-to-point antennas is that they provide high speed internet access over large connection distances. They can also be used to carry voice and data traffic in several bandwidth intensive applications. Some key features of a point-to-point wireless bridge include:
Highly dependable

Lightning speed downloads

Simple, easy installation

Effortless network management

Hassle-free monitoring

Flexible and versatile
VanBelkum was able to set up the point-to-point connection to the client's buildings within the area that needed internet connection. From there, we ran point-to-point signals from the locations with exceptional internet speeds. The client's phones, networking, video surveillance, and access controls are now available because of the successful implementation of bandwidth management.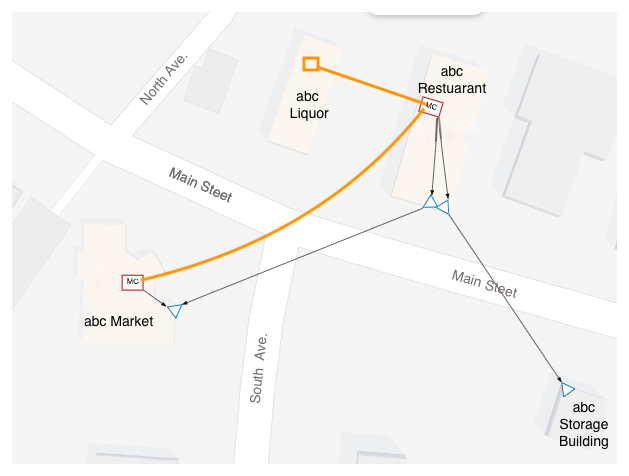 The Result
VanBelkum's solution to the client's issue meant the client was able to access the internet in multiple buildings without needing multiple internet contracts. The client would only need to pay a single internet bill and contract that encompasses service at all their buildings.
Now, the client's businesses are connected to each other and can enjoy the benefits of modern business systems.
The ability to get every building onto one internet bill and contract now allows the client to easily manage their network, and keeps the costs down, effectively avoiding "tech debt." Without the successful implementation of bandwidth management through point-to-point antenna and wireless bridging, the client would have had to sign up for separate internet contracts for each building — which would have been much more costly.
The Takeaway
Future clients can trust that we will do our best to find a solution that solves the connectivity issue they may face, along with saving on costs and bringing value to the areas of the client's business that were once a hassle to deal with.
Ready To Learn More?
To learn more about how VanBelkum helps small businesses with rural internet connectivity or to simply ask a question on our service offerings, fill out the form below to speak with one of our communications experts. You'll talk to a real, local person that wants to get to know you. No high-pressure sales pitch, no obligations – we just want to understand the uniqueness of your company and answer any questions you may have.
"*" indicates required fields
Subscribe to our Newsletter!